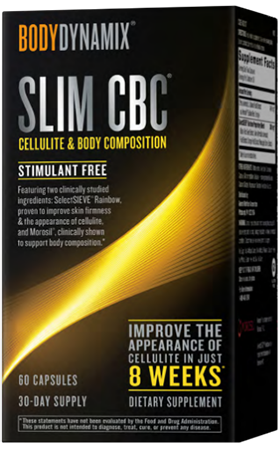 BODYDYNAMIX® SLIM CBC™ CELLULITE & BODY COMPOSITION
SKU #: 483107
BodyDynamix® Slim CBC™ helps improve skin firmness and the appearance of cellulite while also supporting body compositon.* Designed by our scientists in conjunction with the BodyDynamix® meal and exercise plans, this stimulant-free blend of cutting-edge ingredients helps to support your weight loss goals.
Ingredient Innovation™ curated by the nutrition experts at GNC, featuring two clinically studied ingredients: SelectSIEVE Rainbow®, proven to improve skin firmness & the appearance of cellulite, and Morosil®, clinically shown to support body composition.*
$29.99
Improve the appearance of cellulite in just 8 weeks*
Stimulant free
Gluten free
60 capsules
30-day supply
*These statements have not been evaluated by the Food and Drug Administration. This product is not intended to diagnose, treat, cure, or prevent any disease.