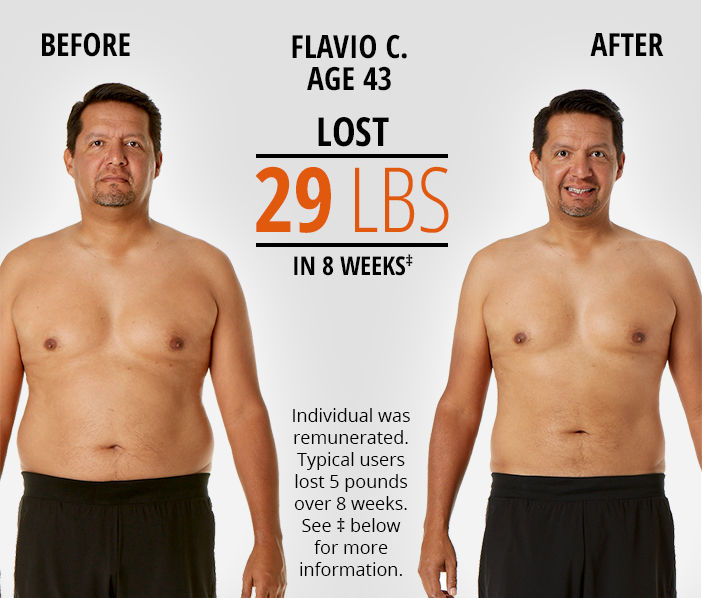 FLAVIO C. / AGE 43 LOST 29 LBS IN 8 WEEKS!
"Seeing the weight fall off so fast was a green light. This stuff worked!"
Before Slimvance®, I was sluggish all day. I tried to keep up with my kids at soccer practice but it just wasn't happening. And I was cycling with a riding group but wasn't doing it well because I was so heavy. Then, on a vacation trip, I saw myself without a shirt on and it was like—good grief! That's when I tried Slimvance®.
It was so easy. I never felt like I was starving myself. I just watched what I was eating. And that, combined with exercise, just snowballed. The first week I lost 5 lbs! I thought, this is working—don't stop. Now my energy level is through the roof. I'm doing wind sprints at soccer practice alongside my kids. And I'm getting compliments. Someone even asked if I was using an anti-aging cream. Plus, my wife is checking me out a lot more!
 
*A randomized clinical study of 140 healthy overweight people compared the use of Slimvance® in conjunction with an 1800 calorie diet and walking plan to a placebo with the same diet and walking plan. Those on Slimvance® lost almost 10 more pounds (-11.81 pounds versus -1.91 pounds), lost over an inch more around the hips (-1.76 inches vs. -0.48 inches), lost over an inch more around the waist (-2.12 inches versus -0.68 inches) and lost more percent body fat (-1.05% versus 0.71%) than the placebo group after 16 weeks.
† When used in conjunction with the Slimvance® diet and exercise program.
‡ Individual was remunerated. Results not typical. Typical Slimvance® users lost 5 more pounds and 1.03 more inches in their waist, and 0.99 more inches in their hips over 8 weeks compared to the placebo group. Both groups used an 1800 calorie diet and exercise plan.
**The Slimvance® clinical study did not reveal the mechanism of action of Slimvance®.
These statements have not been evaluated by the Food and Drug Administration. This product is not intended to diagnose, treat, cure or prevent any disease.